Man killed in shootout with deputies in Huger; many guns found on suspect BERKELEY COUNTY, SC (WCSC) - A suspect was killed following a shootout with deputies in Huger, according to the Berkeley County Sheriff's Office.
Sheriff Duane Lewis said there were no other injuries involved in the Tuesday afternoon incident.
The whole thing started around 3:21 p.m. when a deputy responded to Waterfowl Lane for a reported traffic disturbance involving a resident asking a man who was speeding down the road to slow down. The resident told deputies the man then took out a gun.
When the responding deputy got on scene he saw the suspect's vehicle speeding, so he turned around, stopped the vehicle and spoke to the driver.
The sheriff's office said the driver then took cover, pulled out a gun and started firing on the deputy who called for assistance.
According to Lewis, the deputy was pinned behind his sheriff's vehicle for 30 minutes as the suspect shot at him.
Lewis said the deputy exchanged gunfire with the suspect who kept yelling "I'm going to finish you off" several times.
BCSO officials released pictures of the damaged deputy's vehicle with several bullet holes seen on the windshield.

Berkeley Co Sheriff@BerkCoSheriff
This is the damage that a Deputy's vehicle sustained during the shooting incident on Waterfowl Lane in Huger. BCSO is preparing to do a press conference now. #chsnews
6:18 PM - Feb 26, 2019
A report states multiple law enforcement agencies responded and attempted to set up a perimeter to assist the deputy in getting away from the scene, but the suspect continued to fire multiple rounds at law enforcement officers. During that time, the suspect kept moving and constantly firing, according to Lewis.
BCSO officials said at one point, the suspect said he was going to surrender to law enforcement.
"We had a dialogue with him at one point," Lewis said."He was going to surrender, but refused."
Lewis said when deputies got close and made contact with the suspect, he opened fire at which point deputies returned fire and the suspect was killed.
The sheriff's office said the suspect had multiple weapons including a shotgun, a high powered rifle, and handguns that were either found on him or in and around his vehicle.
"You got to keep in mind now this suspect had a deputy pinned down behind his car, had fired multiple shots at him and made statements that he was going to finish him off," Lewis said."It was a chaotic situation before we had additional resources brought in."
Lewis said the suspect does not live in the neighborhood and was staying at a friend's house when the incident occurred.
According to the sheriff, residents in the neighborhood had some encounters with the suspect in the last couple of weeks involving a firearm.
The Berkeley County Coroner's Office will be releasing the identity of the deceased.
"All law enforcement officers that were on scene are unharmed," BCSO officials said."The Berkeley County Sheriff's Office would like to thank the Moncks Corner Police Department, Charleston County Sheriff's Office, Goose Creek Police Department, South Carolina DNR, South Carolina Highway Patrol, Federal Bureau of Investigation, Mount Pleasant Police Department and the South Carolina Law Enforcement Division for their assistance during the incident.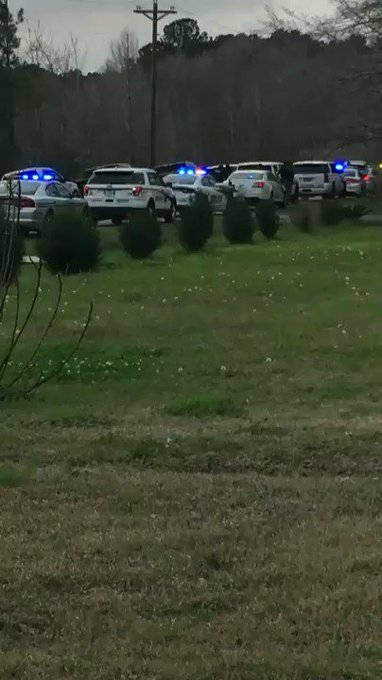 Berkeley Co Sheriff@BerkCoSheriff
BCSO is currently on scene of United Drive in Huger for an incident where shots have been fired. United Drive is currently closed to the public. Media staging will be the corner of United Drive and SC 41. Media MUST have proper credentials. #CHSNEWS
4:53 PM - Feb 26, 2019
Copyright 2019 WCSC. All rights reserved.