HOLY CRAP! Jon Stewart is fighting for Americans who have given everything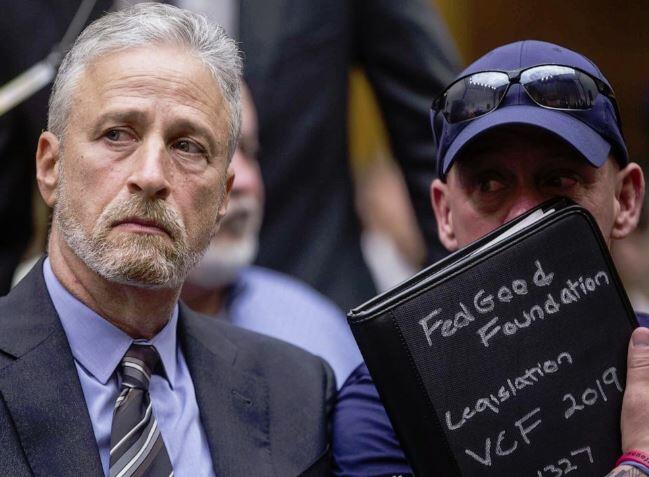 GETTY IMAGES
The September 11th Victim Compensation Fund, which Stewart and others have battled to protect for years, is set to run out of money in December 2020. A new bill, which the House Judiciary Committee is set to vote on Wednesday, would permanently authorize funding for the program.
"I'm awfully tired of hearing that it's a 9/11 New York issue. Al-Qaeda didn't shout death to Tribeca. They attacked America and these men and women ... brought our country back"
I can't help but think of my owner father's life-long struggles as a fully disabled veteran who fought for our country in Vietnam with the Fifth Special Forces, eventually wearing their coveted green beret. His lungs were shot from inhaling blast power from explosives, he survived agent orange cancer. But, even when the government run healthcare system, aka the VA, would up his percentage of disability, they'd figure a way to eventually take it back.
This same jerking around non sense is happening with our 9/11 First Responder Heroes. And, like my father, they deserve better!
"The Trump Justice Department is doing an excellent job administering this program," Jon Stewart said while urging federal lawmakers to make the 9/11 Victims' Compensation Fund permanent
Stewart added that "we can cut through the nonsense," pointing out that 12 Senate Republicans would make the difference in the bill getting passed.
Stewart refrained from criticizing President Donald Trump and stressed that his cause was not partisan.
"This isn't about the president," he told Mitchell. "This isn't about ideology, and it's not about partisanship."
The former Daily Show host urged lawmakers to pass permanent funding for 9/11 first responders on Monday because the current compensation fund will expire in 2020.

Kelly Golden
Want to know more about Kelly Golden? Get their official bio, social pages & articles on News Radio 94.3 WSC!
Read more