CHARLESTON COUNTY, SC (WCSC) - Members of the Mother Emanuel AME Church gathered on Sunday to celebrate the lives and legacies of the victims and survivors of the shooting that took place in the church three years ago.
The service was held Sunday with special guest preacher Reverend Matthew L. Watley, who is the Executive Pastor of the Reid Temple AME Church in Glenn Dale, Maryland.
"It went quite well and I really enjoyed it," church member Leroy Burnell said. "It's just really one of those days that should bring the city together, as always."
The service focused on maintaining an uplifting atmosphere, while also honoring and respecting the lives that were lost and the people impacted by the tragedy.
"It was just heartfelt," church member Gloria Brown said. "It was just excellent."
"It was this bittersweet combination of celebration in a way, joy in the Lord, but sadness--continuing sadness for our loss," Mayor John Tecklenburg said.
Several church members also noted they were proud to be part of a community that has made so many strives forward since the shooting in 2015.
The resilience of the Mother Emanuel community especially impressed Rev. Matthew L. Watley.
"As this congregation has worked through their pain, they're now at a different place because the same faith that allowed them to forgive the perpetrator is allowing them to power forward," Watley said.
Watley said he's impressed to see them powering forward not just by recovering, but by taking action.
"They're not simply mourning, but they're also continuing to press the issue of gun safety and press the issue of racism in our country.
Rev. Eric Manning, the pastor of Mother Emanuel, said something similar in a statement.
"In addition to honoring the lives and legacies of the Emanuel 9 each year during the month of June, we are committed to speaking out against gun violence each and every day and striving towards achieving racial reconciliation," Manning said.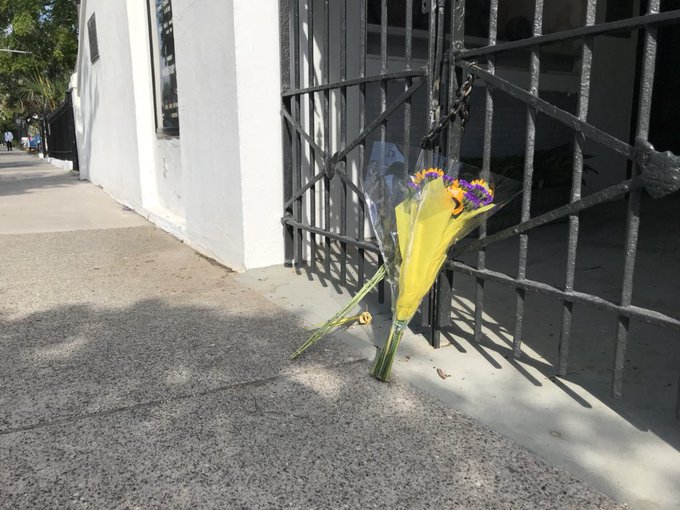 @bradrstreicher

Some people have already put flowers in front of the church to honor the 9 people killed in 2015 #chsnews @Live5News

9:32 AM - Jun 17, 2018
The church is hosting and sponsoring several events during the week of the anniversary.
A Rally for Unity will be held at Marion Square on June 23 at 9 a.m. The rally will serve as a call to action to the public to end gun violence and improve race relations.
Copyright 2018 WCSC. All rights reserved.