NORTH CHARLESTON, SC (WCSC) -
One person is dead and two others were transported to the hospital following a multi-vehicle accident ended in a fiery wreck on I-26 in North Charleston.
Officials with the South Carolina Highway Patrol announced at 8:39 p.m. that lanes near the 210 mile marker were now open.
At one point, all eastbound lanes were closed as emergency crews responded to the scene.
The crash happened on the interstate near Ashley Phosphate Road at approximately 1:50 p.m., South Carolina Highway Patrol Lance Cpl. Matt Southern said.
Investigators say the incident involved four vehicles: two tractor-trailers, an SUV, and a pickup truck.
Highway patrol officials said it all started when a tractor trailer, an Audi SUV and a pickup truck were slowing down due to traffic.
According to highway patrol, another vehicle, described as a Volvo tractor trailer, struck the pickup truck causing a chain reaction.
SCHP officials said the SUV and the Volvo tractor trailer caught fire after the accident.
The driver of the SUV died from injuries after the vehicle caught fire, according to a report by highway patrol.
Two people inside the pickup truck were transported to the hospital.
A fifth vehicle was also later found to have been involved, according to Southern.
That vehicle had a flat tire and the driver was legally parked on the emergency lane, waiting for roadside assistance when debris from the accident struck his vehicle.
North Charleston Police and Fire and Charleston County EMS also responded to the scene.
Authorities had earlier shut down all I-26 eastbound traffic as crews worked the scene.
Law enforcement officers were detouring traffic to the 205 exit.
Motorists captured video and pictures of a black SUV on fire.
Witnesses also reported that the front end of a tractor trailer also caught on fire during the incident.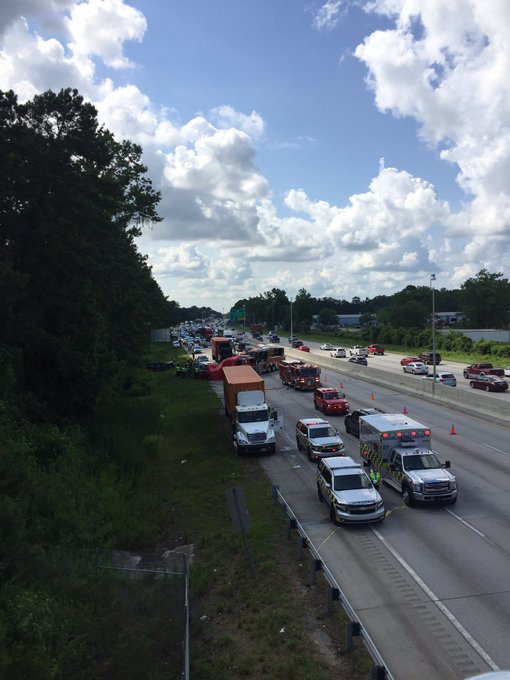 Lisa Weismann

@LisaLive5

Terrible wreck on I26 Eastbound, near MM 210. At least one person killed, per Highway Patrol. All lanes blocked.

4:34 PM - Jul 2, 2018
Copyright 2018 WCSC. All rights reserved.